Get More Website Traffic with Fully Managed, Advanced SEO Services
There's some SEO in everything you do online. But that doesn't mean everyone needs the same SEO services. Build your search engine optimization foundation with the trusted experts. We offer the right plans and strategies match your exact needs.
Here's What You Get with SEOJaws.com's Professional Services
You can get an edge on the competition with a strong, integrated strategy that combines content marketing, research, technical SEO, social media, paid strategies, and other elements of online marketing.
When it all comes together in a single, unified strategy, you can expect:

More Traffic
As you gain more visibility, you will start to see an increase in the number of website visitors.
More Leads
We can target the audience that is most likely to be interested in your products and services.
More Revenue
The increase in targeted leads makes it easier to turn those leads into paying customers.
More Brand Awareness
Your brand can become the one your customers think of over all the competition in the industry.

More Business Growth
The new traffic, qualified leads, and brand awareness all contribute to new growth opportunities.
More Trust and Authority
When you reach the top of the search results, your customers will see you as the industry authority.
"After reviewing our site and establishing our goal, SEOJaws.com employed the most impactful 'best practices' in SEO programming, design and coding. The results speak for themselves. SEOJaws.com has become a strategic partner not only regarding web based marketing but as a contributor to our comprehensive marketing program."
Discover a Holistic Approach to Online Marketing
How do SEO and Social Media work together?
Can you make AdWords work for your company?
Is your content reaching the right people?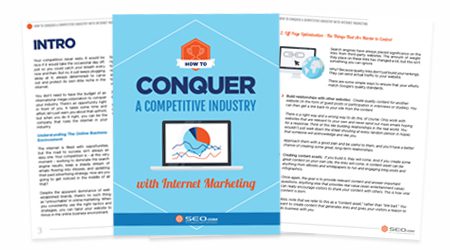 Download "How to Conquer a Competitive Industry with Internet Marketing" to find out.
At SEOJaws.com, you can get the plan and strategy that matches your exact needs and budget. If our custom plans are out of your range, we also have small business plans to explore.
Is this plan right for your business?
This is the ideal plan for advertising a physical location and bringing people within your community right to your doorstep.
Is this plan right for your business?
If you need to reach a nationwide (or even international) audience, this plan includes everything you require. 
Is this plan right for your business?
Highly competitive national campaigns, e-commerce sites, and international organizations can dominate the SERPS with this plan.
What's Included in Our Custom SEO Packages
Site Health
A lot of variables can impact your site's overall health. Make sure algorithm changes, indexing errors, or manual actions aren't causing problems.
Competitive Analysis
A lot of companies are competing for your keywords. We'll analyze their strengths and weaknesses to find new opportunities for your success.
Page Optimization
Make sure your website converts visitors to paying customers and that it's fully optimized to achieve the best rankings.
Link Building
Links from high-quality sources drive relevant traffic to your site and help build authority in Google.
Monthly Reporting
Stay completely in the loop with a monthly reporting schedule that shows everything we've done and how it has impacted your online presence.
Content Marketing
Content is still king in the online world. This can include new on-page content, regular blogs, newsworthy press releases, or complete eBooks.
SEO is not a one time effort. Nor is it something you can set on autopilot and expect great results. It involves a number of important, ongoing tactics and strategies, including:
Keyword Research
Effective keywords are the foundation of a great SEO campaign because they give us insight into your consumers' questions and concerns.
Industry Analysis
There are a lot of companies trying to rank for your keywords. We'll analyze their strengths and weaknesses to find new opportunities for you.
Technical Optimization
User experience defines on-page optimization, which is why we combine SEO with web design and development. Everything from on-page copy to site navigation contributes to our end goal.
Off-site Optimization
Building links from established sites remains a constant in good SEO. The most effective links will contribute to your rankings and drive quality traffic to your site.
Tracking and Evolving
We examine all the relevant metrics and data to constantly refine our approach and ensure we are targeting the right audience at the right time. We can then adapt our strategy as needed.
YouTube is the second biggest search engine.
Start Growing Your Business with Professional SEO Services
Climb to the top of your industry with a strong, integrated strategy and an experienced, trusted agency. Start the conversation about your online opportunities with one of our SEO specialists today. We'll reach out to schedule a discovery call and get you a proposal.